A stock symbol or "ticker symbol" is a shorthand code used to uniquely identify shares of a publicly traded corporation on a particular stock exchange. A stock symbol may be made up of letters, numbers, or a combination of both. The majority of symbols are letters—for example, MSFT is Microsoft, C is Citigroup, and GOOG is Google.

When you enter a stock symbol in the SogoTrade Trading Center, you'll see the following data:


The quote, which reflects the stock's current market price.
The change is the difference between the current price and the last trade of the previous day, reflected as a dollar amount and as a percentage.
The bid is the highest price at which others wish to buy.
The ask is the lowest price at which others wish to sell.
The volume, or number of shares being traded, which is significant because it can indicate the strength of a price move.
The size of the bid/ask shows how many shares are represented in those prices.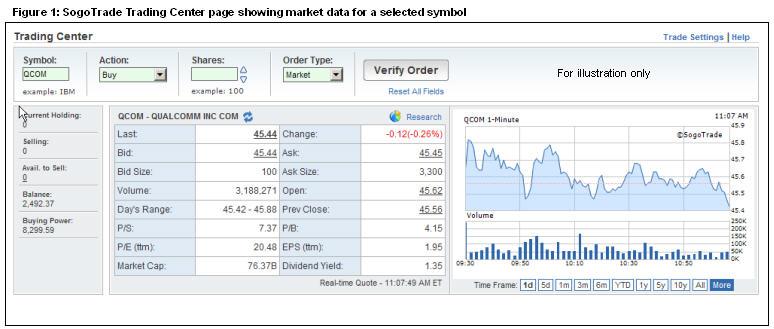 Read more:

Translating Ticker Talk
You might know about different asset types, but do you know how each type contributes to a particular goal?